Most common answers 'WHY' I have a Login Issues.
Listed below are the three most common reasons why your login failed!
1. When OPENING a form I get LOGGED-OUT

This is caused by the Content Adviser setting within Internet Explorer
1. From within Internet Explorer click on the Tools menu at the top of the screen and then on Internet Options.

2. Click on the Content tab as shown below.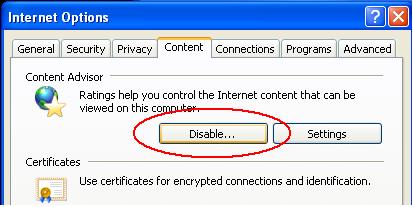 3. If the button, circled above, is on Disable, click on it to disable the Content Adviser.
This may require a password if one had been previously set.
For detailed instructions click this link: (from Microsoft)
B. I get Login "Expired"-when I try to LOGIN
This is usually caused by a issue with a software program called CA Personal Firewall!
Open CA Personal Firewall
On the left panel, click on Personal Firewall.
You can "Disable the CA Personal Firewall by selecting "Disable CA Personal Firewall" under Main Tasks on the Overview screen.
Instructions on how to Configuire: (web link From CA Personal Firewall site)
If you don't have CA personal Firewall, go to Section C.
C. I get-COOKIE failure message
I receive a message that "cookies are not enabled". This is due to a "broken" cookie.

1. From within Internet Explorer go to Tools>Internet Options and click on the Privacy tab.
2. Click, the Advanced button.
3. The settings should appear as in the example below: