How to Set Up a Second Signer/Sent a Form to 2 People Sharing a Single E-Mail
Many times there are 2 participants in a transaction that share an email address (for example, a husband and wife). If you try to put 2 signature locations with the same email, the system will not allow 2 different names in the blocks with the same email address. These instructions also are useful if you need to send something to one set of signers, then, after it is signed, send it to a second set of signers.
To allow both participants to sign, you have to set up the second person as a 2nd signer.
1. At the on the Signature Request page, enter the shared email address into Buyer 1 Email or Seller 1 Email (depending which they are). DO NOT enter a name in the name field; this will prevent the second signer from signing. DO NOT put the shared email address in the Buyer 2 or Seller 2 slot; if it was auto-filled, remove it.

2. Enter the email address of any other person who needs to sign the documents in the appropriate field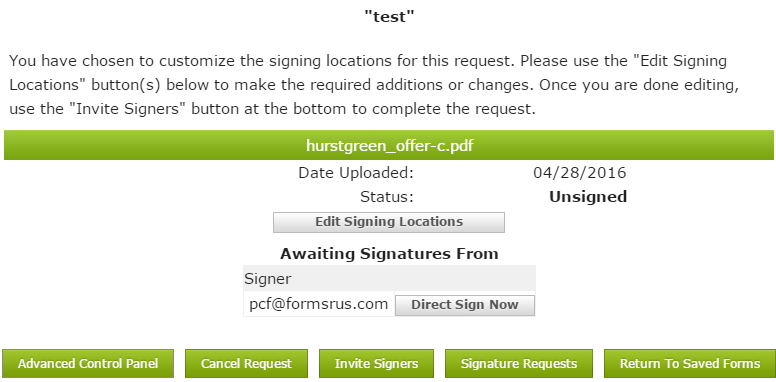 3. On the Status page, click on the Advanced Control Panel button on the bottom left.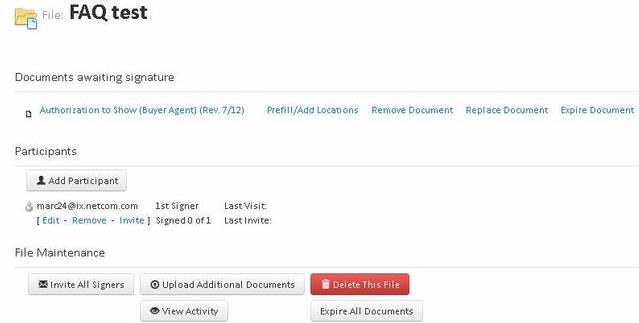 4. Click on the Add Participant button on the Control Panel.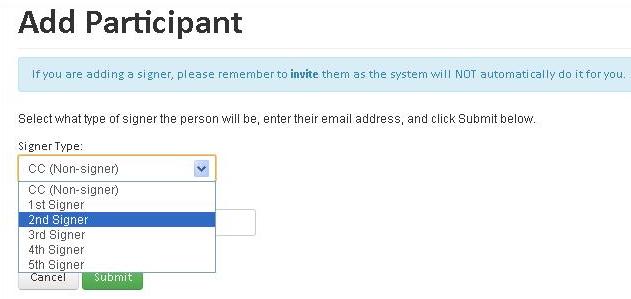 5. Enter the email address for the second signer. From the drop-down menu select 2nd Signer (the system will not let you select 1st Signer; you will get a message saying the email is already a participant).
6. Click the Submit button.
7. Click on Prefill/Add Locations link.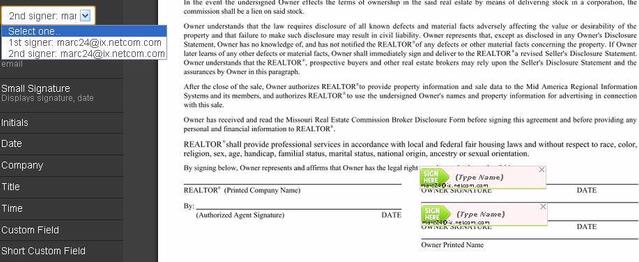 8. From the drop-down menu, select 1st Signer and click on the desired type of block. Drag the block to the desired location. Add any additional blocks (such as Date and Time).
9. Select the 2nd Signer and repeat Step 8.
10. Create and locate signature and additional blocks for any other signers.
11. Click the Save button and then Exit.
12. Click on the Invite link under the 1st signer.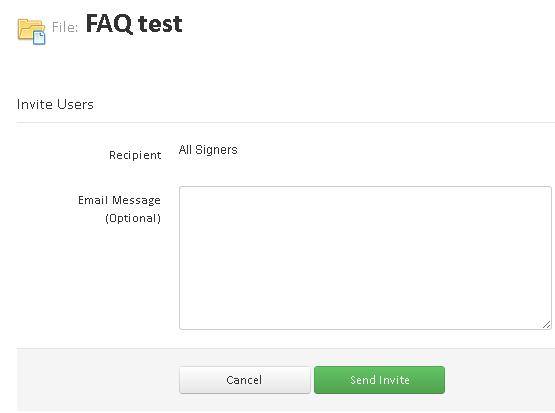 13. Enter an email message to the recipients if you want (it is not required). Click Send Invite.

14. Repeat steps 12 - 13 for the 2nd signer, and any additional signers.
What the signers will get.
Once you have invited the signers, the first signer will get an email enabling them to sign the document. Once they have signed and submitted the document, a second email will be send to the same address to enable the second signer to type in their own signature.